So, I heard about this band thru the In the City showcase that they were having after the panels in NYC last week.
The Pigeon Detectives
were supposed to play the Nokia Theatre with The Happy Mondays but THM cancelled the week before the show. They ended up playing the Knitting Factory with
The Rakes
last Wednesday night- I missed it for
Razorlight
which is a completely different story that I will post about later.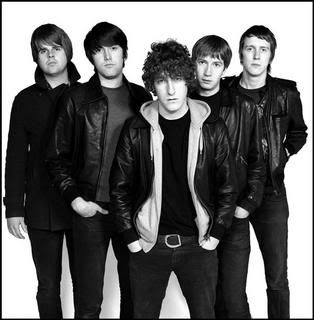 Hailing from Leeds, this band formed in 2002 taking a path that very likely will lead them into rockstardom- well at least for a brief while. Getting on some great tours having supported
Dirty Pretty Things
whilst they toured in Spring 2006 and
Kaiser Chiefs
in early November 2006, this band is getting major "buzz" as summer festival season nears. Their debut album "Wait For Me" was just released last month in the UK produced by Will Jackson (Kaiser Chiefs/Embrace) and mixed in part by Cenzo Townshend (Snow Patrol/Kaiser Chiefs/Bloc Party) and Steve Harris (The Automatic/U2). From what I've heard so far (haven't picked up the CD yet) is some solid catchy pop/rock. Their songs are all really similar (aka sound the same) but that doesn't bother me since I find them to be infectious and full of energy. Last week, I couldn't get "I Found Out" out of my head playing it at work over and over again. Unfortunately, they are not slated to gig in the US any time in the future, as I hear their live show takes the recorded songs to new heights with charismatic lead singer, Matt Bowman's stage antics, crowd surfing etc. I assume as they get bigger,
The Pigeon Detectives
will be making trips to NY to showcase for a US label deal (if they don't already have one in the works).
The Pigeon Detectives - Wait For Me.mp3
The Pigeon Detectives - I Found Out.mp3
The Pigeon Detectives - Im Not Sorry.mp3
In the New York area there are limited copies of the album available from the following stores:
Generation Records
210 Thompson St
New York, NY 10012
(212) 254-1100
www.generationrecords.com
Other Music
15 E 4th St
New York, NY 10003
(212) 477-8150
www.othermusic.com