DJ Vibe
and
Max Barbaria
have put out a couple of mixtapes out together. This new one,
The Adventures of DJ Vibe and Max Barbaria
, is really thoughtful, listenable all the way through and most importantly eclectic. There is tons of remixed, twisted out and just plain weirdo shit- a ton of stuff I don't know (which I like)... This mixtape is classified as sort of world music/hip hop/electroclash-ish...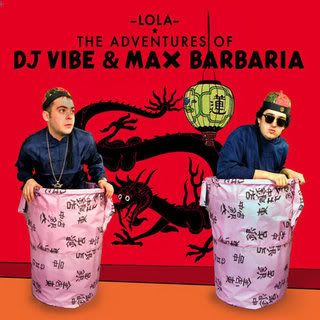 You know when someone is blogging about an artist/dj whoever and you can tell that its their friend - like they are only repping them because they have to AS A FRIEND say that their shit is dope. It is totally NOT the case here, even though these fine young musicians are my friends, this mixtape with the TinTin cover (thanks to
Stat
), is something you should buy, if only to expand your world music knowledge...
DJ Vibe & Max B -
12 Track 12.mp3
(Donatella Rettore - Il Cobra)
DJ Vibe & Max B -
21 Track 21.mp3
(Mapei - Date Rape / Lind and the Linders - Koi Ni Shiberete)
DJ Vibe & Max B -
23 Track 23.mp3
(Omarion - Ice Box / Phones - Alsatian Remix)
DJ Vibe & Max B -
24 Track 24.mp3
(Bun B - Get Throwed / Klaxons - Golden Skans)
Recently played on EVR on Mark Ronson's (our goldenproducer boy)
Authentic Shit
is a catchy, well matched mashup of Justice's "D.A.N.C.E" and Jay Z's "Show Me What You Got"...
DJ Vibe and Max B -
Show Me How To D.A.N.C.E - (Justice vs Jay Z) DJ Vibe and Max.m4a
p.s. this is just funny shit: